Open Living-in.EU Supporters meeting
The next online meeting with the supporters of the Living-in.EU movement will take place on 20th of December from 13:30 to 14:30 CET.
The meeting will aim to engage you into the work the Living-in.EU movement is conducting on data platforms, data spaces and Digital Twins for smart and sustainable cities and communities as well as to inform you about ongoing and upcoming funding opportunities.
If you are interested in attending, please register here.
It will be a fully interactive and participatory event! Therefore, we would like to invite you to check on the Living-in.eu website for any background information you may need to prepare for this event. The meeting this time will be also open to potential signatories and newcomers who have not yet signed or supported the Living-in.EU Declaration. Feel free to share this event with your stakeholders!
We also recorded a few video messages to get you up to speed with latest developments in the Living-in.EU movement, and information on calls for proposals and existing initiatives of standardisation efforts pursued by the various stakeholders of the Smart and Sustainable Cities and communities. Please watch them in advance - videos at the bottom of this page! 
Agenda
Welcome (by the Commission)

Introductory words
Meeting purpose
Onboarding of newcomers

Engaging Living-in.eu 'supporters' (moderated by the Technical sub-group chair)

Overview of different MIM technical working groups
Expression of interest to contribute on the various MIMs
Synergies among different workstreams (new proposals?)
Identification of future webinars on MIM-related topics

Open forum discussion
AOB
Conclusion and move to the Technical sub-group meeting of the Living-in.eu (invitation only)
Video Messages to watch in preparation of the meeting:
Updates on the Living-in.eu:
Update from the EC

Ongoing and upcoming funding opportunities:
Standardisation efforts - ITU actions
Other events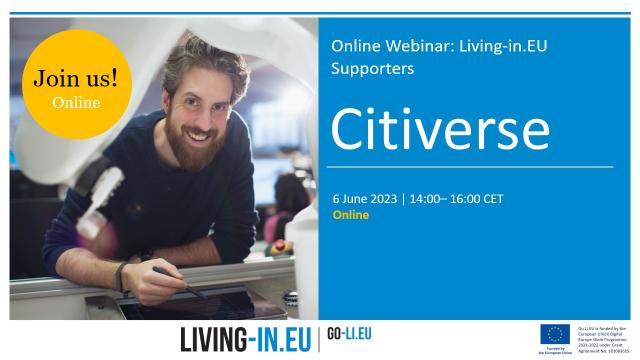 Living-in.EU Supporters are all welcome to join us online on the 6th of June from 14:00 to 16:00(CET, Brussels Time).
Peer review exercise on common AI procurement clauses for local authorities
We are pleased to announce that OASC's general assembly meeting will take place on Wednesday 14 June 2023 in Brussels, alongside the Brussels Urban Summit.