Roundtables on Procurement Clauses of AI
Local authorities are increasingly using AI technologies and algorithmic systems to operate their cities and provide services to citizens. With AI having a bigger impact on citizens' lives, there is a growing need for instruments that can guarantee the use of AI in a responsible and secure manner, ensuring for example transparency about the decision-making processes and accountability.
Building on the work done by Amsterdam, legal expert Jeroen Naves in collaboration with DG GROW and DG CNECT, has now updated the terms by Amsterdam and developed them into common AI procurement clauses. These clauses are in line with the latest version of the AI Act proposal and consider recent developments related to AI.
The ambition of this roundtable exercise is to peer review these clauses with a European audience and draft a standard for public procurement of AI and algorithmic systems that can be used by public authorities across the European Union.
Peer review approach
Objective: The objective of the roundtables to validate and improve the AI procurement clauses with the support of experts from public sector bodies.
Format: The clauses will be covered using two roundtables. Participants are expected to take part in both roundtables:
The roundtables will be held online, through Microsoft Teams, and include discussions and break-out exercises using pre-defined formats and collaborative tooling.
Participation: Experts from legal, technical, procurement and ethics domains are invited to participate by expressing their interest through the online form. 
Selection: Based on the the number of expressions and the professional background of the experts a selection will be made to make sure the feedback represents the various perspectives. 
Preparation: Participants will receive a confirmation via e-mail about their involvement in the roundtables, including the updated version of the AI procurement clauses. To support an effective peer review exercise, everyone is expected to familiarise themselves with the procurement clauses before the roundtables.
Validation: The procurement clauses will be updated using the input that is collected during the two roundtables. The updated version will be circulated with all the participants for written validation.
Publication: After validation, the AI clauses will be translated in all EU languages and these will be made publicly available through the Digital Public Buyers Platform and the Living-in.EU website.
Support: This peer review exercise will be conducted with the support of Jeroen Naves, a lawyer specialising in technology and the law, DG GROW's Digital Public Buyers Platform and Living-in.eu.
More information are available here
Please notice that registrations are now closed for this event. If you would like to stay involved on the topic, or for any further questions, do not hesitate to contact viviana.demonte@eurocities.eu or gabriela.ruseva@eurocities.eu. 
Other events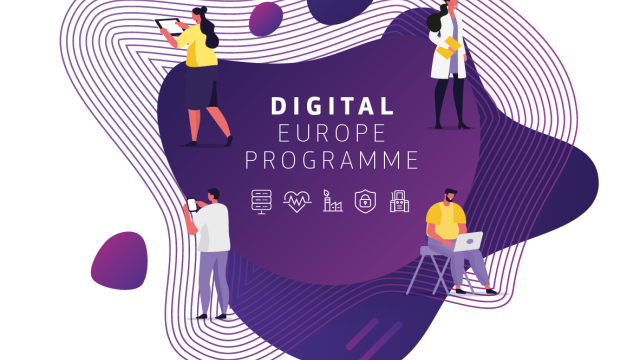 On 12 December 2023, the European Commission will present the fifth round of DIGITAL Europe Programme call for proposal in a dedicated Info Day and Pitching Event.
The Monitoring and Measuring subgroup of Living-in.EU is organising it fourth meeting in 2023 on Wednesday 13 December 2023, from 10:30 to 12:00 (CET). This event will be held online only. This meeting will be limited to Living-in.EU signatories, subgroup members and LORDIMAS respondents.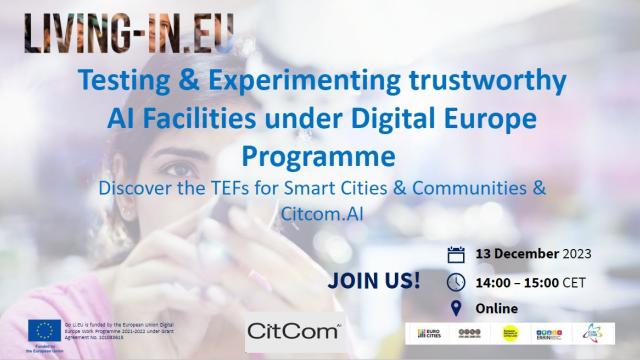 Online Webinar
Join next Living-in.EU signatory event on the Testing & Experimenting Facilities (TEFs) for Smart Cities & Communities, find more about how the TEFs are contributing to more trustworthy AI facilities on the European Market and how cities & communities can contribute to it!